On the morning of April 20, two drivers left their cars on Vagharshyan street in Yerevan, making traffic jam. It seemed that there were no supporters, and the cars passing did not even pay attention to what happened. The police pushed with damaging the cars and with the help of evacuators restored the traffic. This case was followed by other cars, parking in the streets and causing traffic jams. The protest radiantly spread in the capital; meantime peaceful protesters were walking in the streets.
Neglecting the peaceful nature of protest rallies, the police detained more than two hundred demonstrators, using force against some of them. However, more and more demonstrators appeared in the streets, and cars continued to drive in the streets of Yerevan honking their horns. The Yerevan-Abovyan highway was closed by the residents of Ptghni village and the employees of Arinj mall.With the help of evacuators, two cars were removed from Arshakunyats Avenue, while their drivers were inside. According to the human rights defender, the police had no right to transport the vehicle with the evacuators when the driver was inside. The police also took out an elderly man from his car using force. His condition worsened, which was not an obstacle to detain him. Nikol Pashinyan and a large number of demonstrators were marching on the streets of Yerevan, and drivers continued to create obstacles for police officers. All this was of a peaceful nature.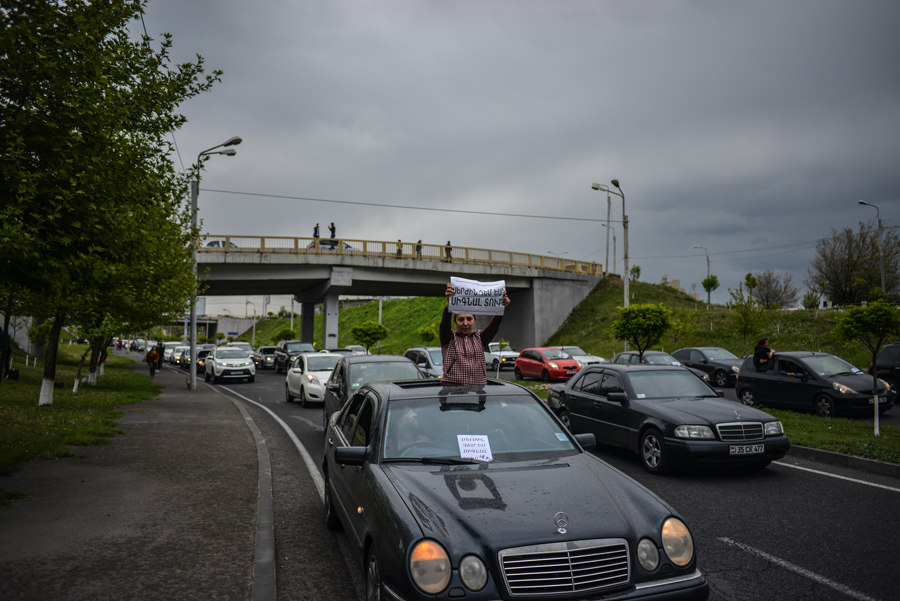 Demonstrators insist that their actions are against Serzh Sargsyan and his appointment as Prime minister. They also exclude the use of violence against the police.