In one of the buildings of the previous infection hospital of the city of Abovyan live thirty-six people in need of care. In each room along the long corridor of the one-storey building live four people. They have tried to settle the neighbours so that they have something in common and get along with each other. The residents of "Narek" walk along the long corridor of the building. The city morgue is near the building. The residents are already used to its presence. One of the residents of the last room, PHD of Technical Sciences Karakhanyan Alla from Tbilisi has covered her window with cardboards not to see the building of the morgue.
"I am used to it already, but when people come here, they look inside the window, that is why I have covered the window," says Alla.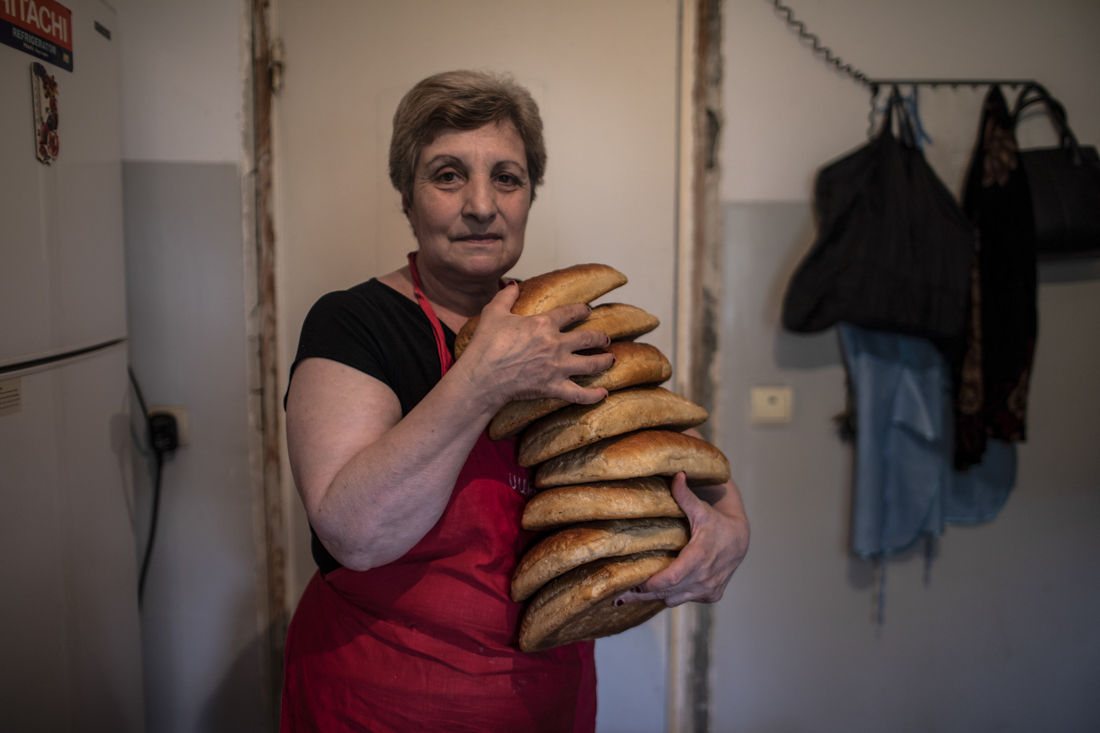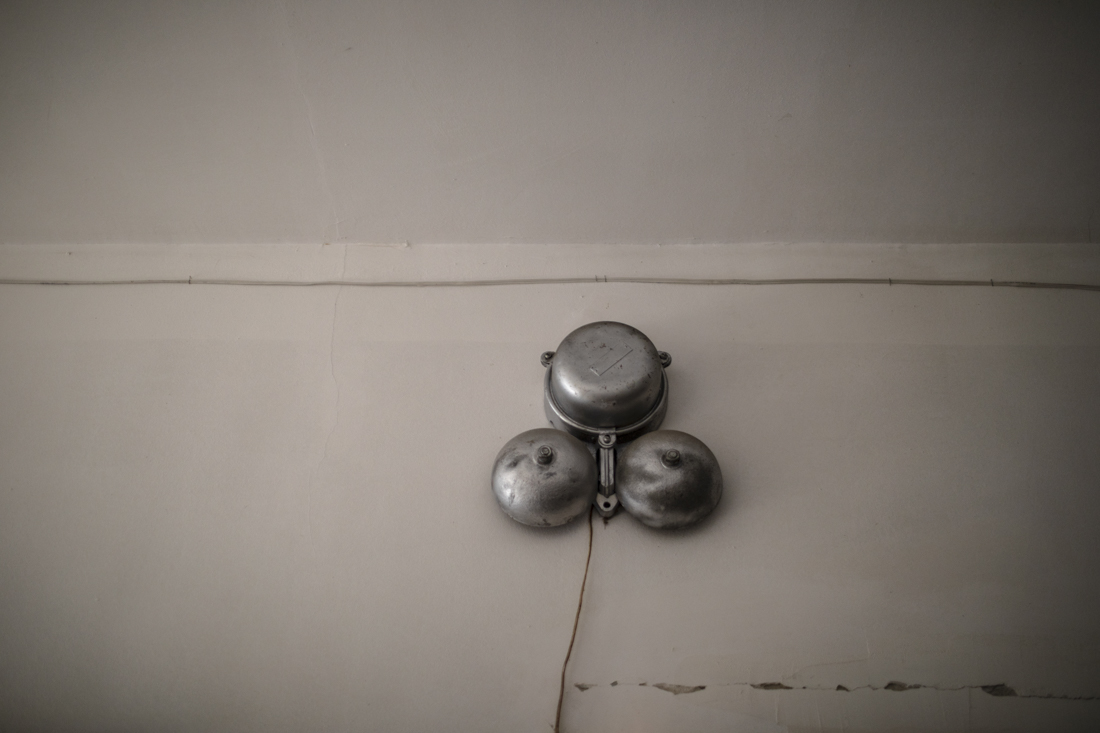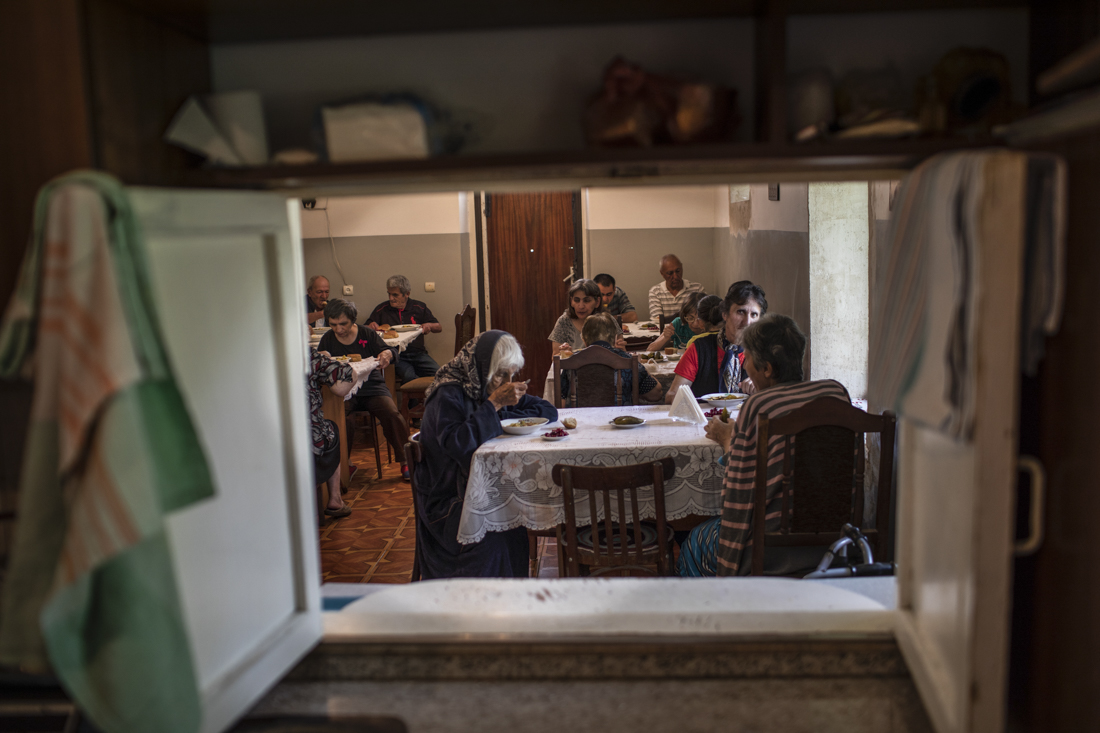 "When the earthquake of 1988 happened, I went to Kirovakan and brought four children from there," tells Shoghik Mikayelyan, who founded the non-governmental nursing home "Narek" with her husband Fridon, in 1999. "The parents of those children were divorced, the mother had gone abroad to work, the children were left alone. They had lit a fire near the house and were dancing. When I learned the four were from one family, I thought to take them, to keep them temporarily, until their parents come. They agreed. I took them to Abovyan, took the little one to kindergarten, placed the others into school, they began to study. Of course, they were not doing well, one could say that they hadn't had consistent upbringing."
We brought a family from Leninakan, kept with us, two years later the government settled them. After that my girls found an aged woman in the bazaar, they took her to hospital. They were asking at the hospital who was with her, they called me, asking, mam, come and help us. I went to the head of the hospital, I said I was ready to help. Treat the woman! Ten days later, she was released from the hospital, we took her to her house. It was her second husband's house, she had children. The children were fighting to take her out to sell the house. We would go three times a day to take care of the woman. I used to run to the communal house, to the rented apartments, to helpless people, to help them, nurse. We saw that there were more and more people, we thought to open a nursing home. We kept them in rented apartments for five years, paying $100. Later the government gave this building to us."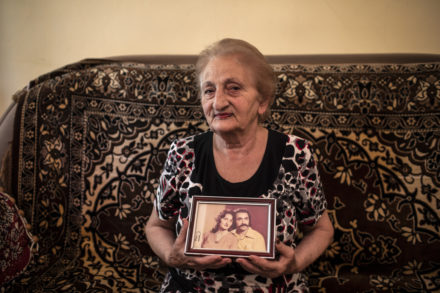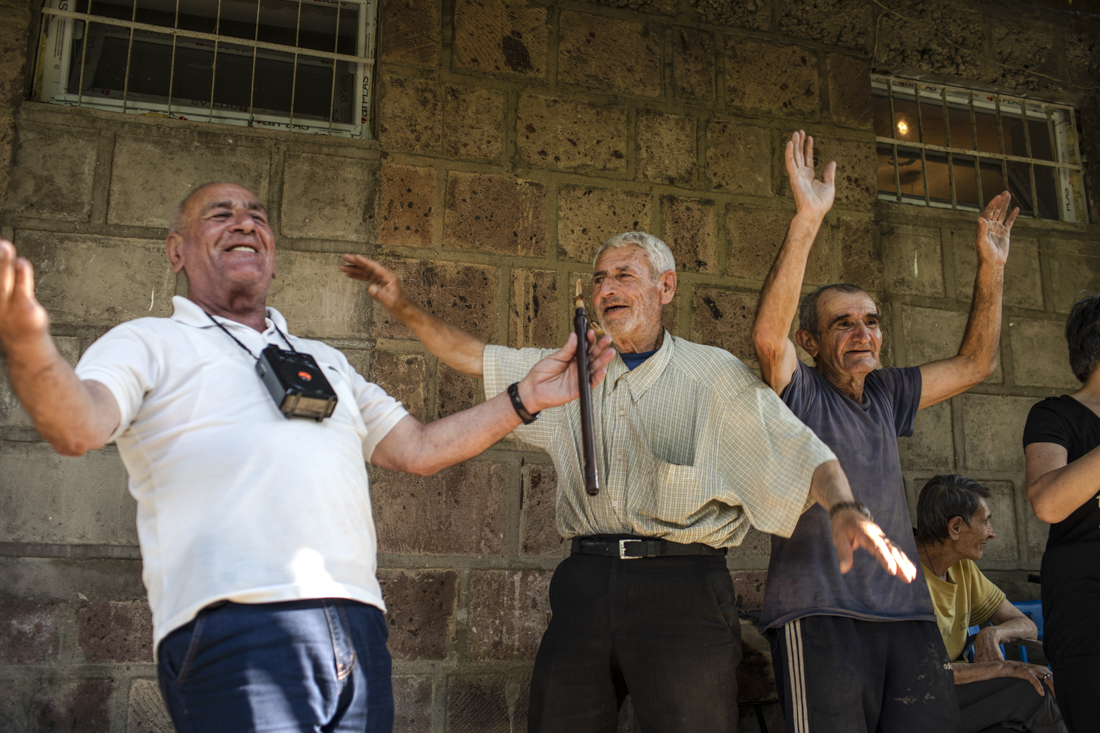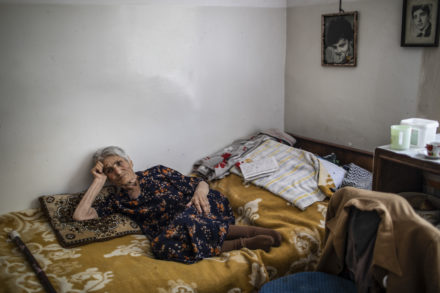 "He was a one-day-old child, his parents didn't want to keep him, I kept, I brought him up. I have worked for 47 years at Leninakan's textile factory, my nephew took away my house, they threw me out, and I was brought to this nursing home, it's already two years I am here," tells Pambukh․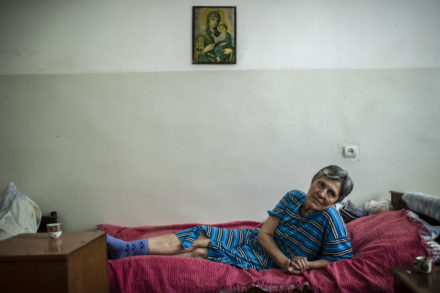 "The police took me from my brother's house. I was helping to cultivate the soil, to seed potato, to clean the house, to clean the garden. I have never sat without work, I have always worked," remembers Gayane.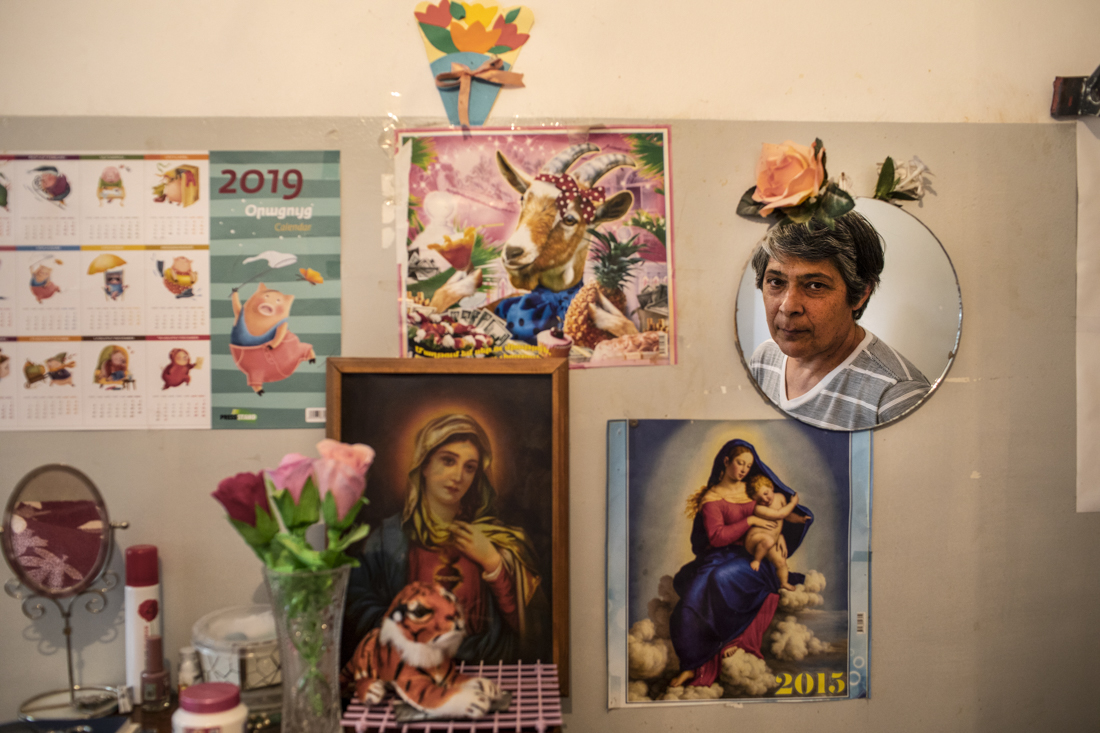 The nursing house has its own farm – a cow with its calf, hens with chickens, dogs, tortoises living in glass containers fill the everyday life of the people. Some help to cultivate the garden, to gather the harvest. 
They can juice for winter, make pickles. Shoghik Mikayelyan indicates that they don't complain from the food, they manage. The only problem is the space. In case of having more space they would be able to accept more people. The waiting list is long. Right in front of the nursing home there is the abandoned, destroyed two-storey building of the polyclinic, which is not used for years. 
Since the day of its foundation they have nursed 372 people at "Narek", some of them have died, some have been taken away by their relatives.
"I'd rather wish there were no nursing homes in Armenia, I would take care of my own grandchildren. We have young people with mental disabilities, they are very vulnerable, there are 8 of them, whose parents have died, and the relatives have taken them to us, and we have accepted them gladly. There is no one offending them, the elderly love them a lot, because what they say, those fulfil it immediately. I sleep calmly, because I know there is no beggar, no helpless young woman or man in my environment," concludes Shoghik.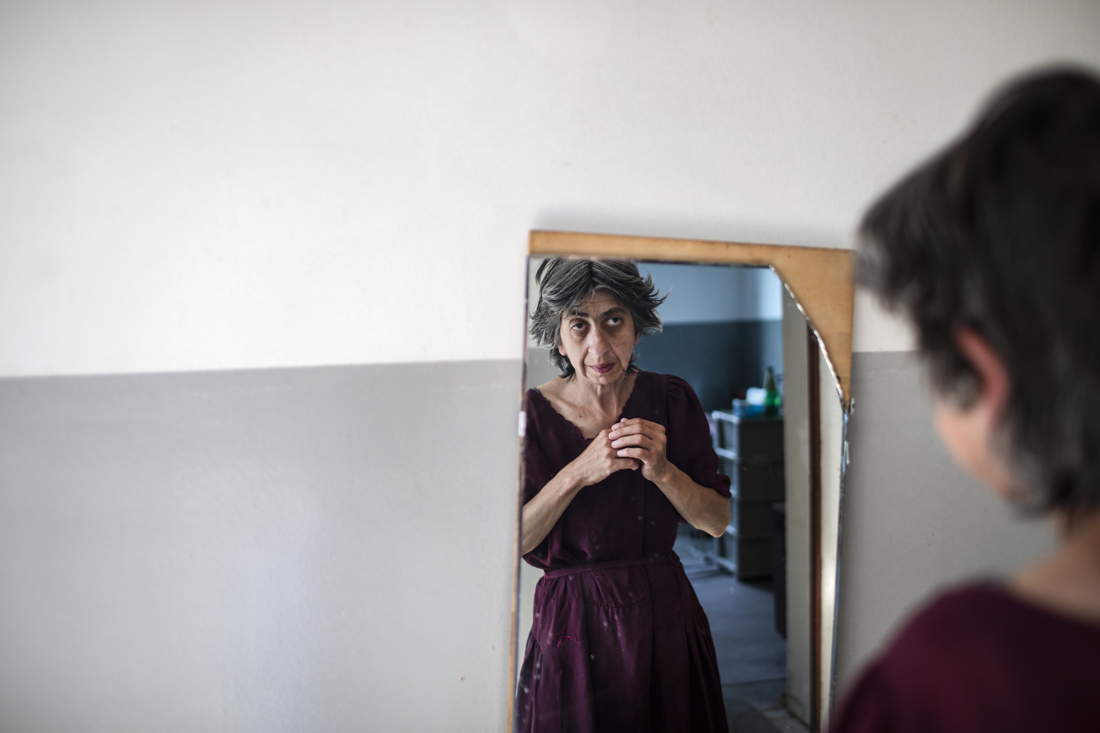 "We lived in Baku, we have come to Armenia earlier, four years before the war, my mother, my father, me, I have a brother too, he lives in Moscow. We came, and Sumgait began. We have exchanged our house with a turk in Masiv. My father died in 1991, my mother died in 2010, then my daughter-in-law took me to Moscow. I lived there for two years, but later, I didn't want to come here, I was taken forcibly, I have come here crying, but never mind, I got used to, it's already 7 years I am here. It became 7 years in July. I have a phone, I call them," says Larisa.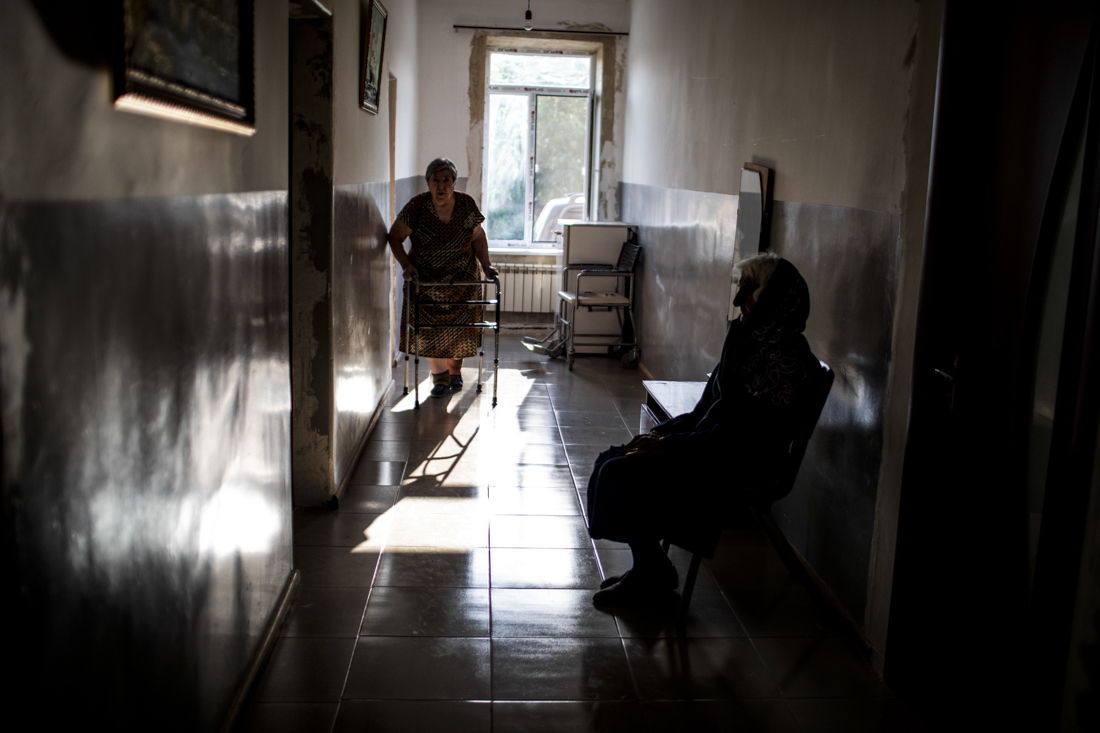 ---
"This photo story was funded through a Department of State Public Affairs Section grant, and the opinions, findings and conclusions or recommendations expressed herein are those of the Author(s) and do not necessarily reflect those of the Department of State."