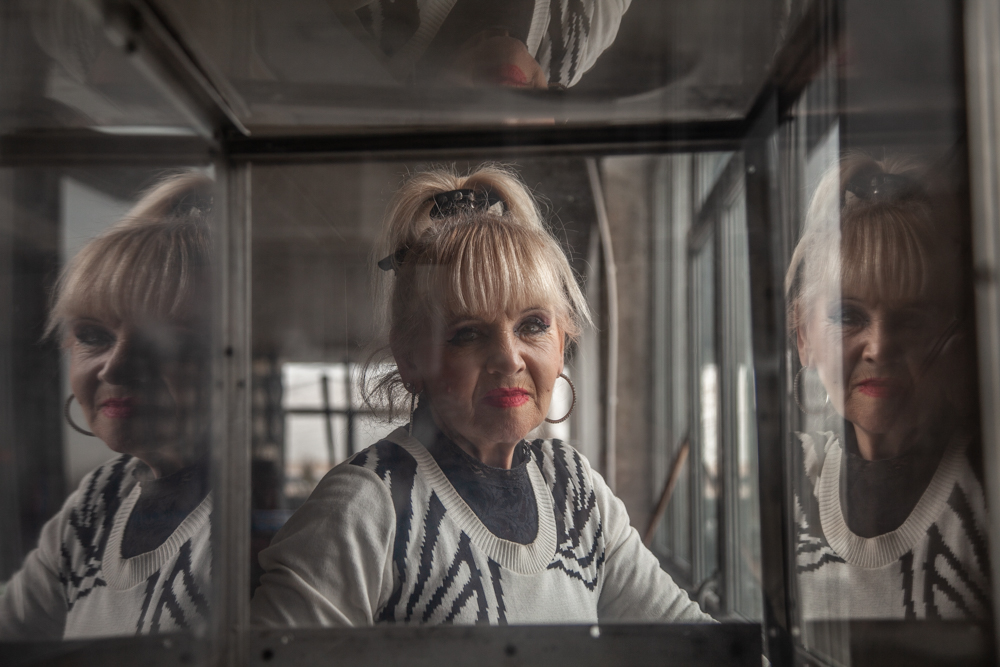 Natalya was born in 1954 in Russia – in the city Chelyabinsk – in the family of a military man. Her mother was a pharmacist and she had her own pharmacy store.
Natalya's dream was to become a pediater. How was she to know that in years she would have to visit pediaters regularly?
In Moscow Natalya attended an exhibition, where she met her future husband – painter Viktor Kocharyan. They married so quickly, that the 17 year-old Natalya didn't even realise how she appeared in Yerevan. This is a familiar story, isn't it? It is like the movie "The Bride from the North". After cold and grim Russia our white-skinned "Valenka" was surprised at the warm sun of Armenia and got fond of the dark- skinned people warm like their country.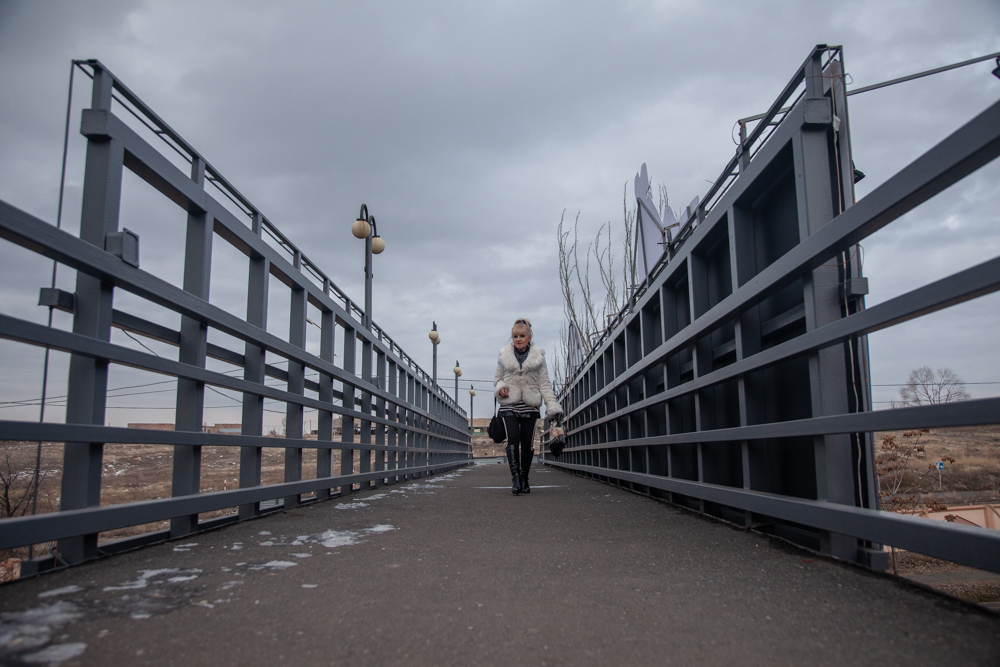 What does one need for a happy family? Two daughters, and later a son. But in two months after his birthday little Karen suddenly had high temperature. At the hospital he was diagnosed pneumonia and for accelerating the recovery the doctor injected Penicillin without examining the child. It was impossible to find Ampicillin in the country then, but Penicillin as medicine had many side-effects. As Natalya says, the doctors made so many mistakes one after another, that the child developed salmonelosis. During the process of curing that disease, they learned that the central nerve system of the child was damaged. And the new diagnosis was ICP. That meant that the boy would never walk. Many advised Natalya to leave the child in the hospital, but Natalya rejected. She understood brilliantly what was awaiting her and Karen, but she hoped, that if she speared much effort, if she took the child to different doctors, he would eventually walk.
After all the possible treatments Karen didn't walk…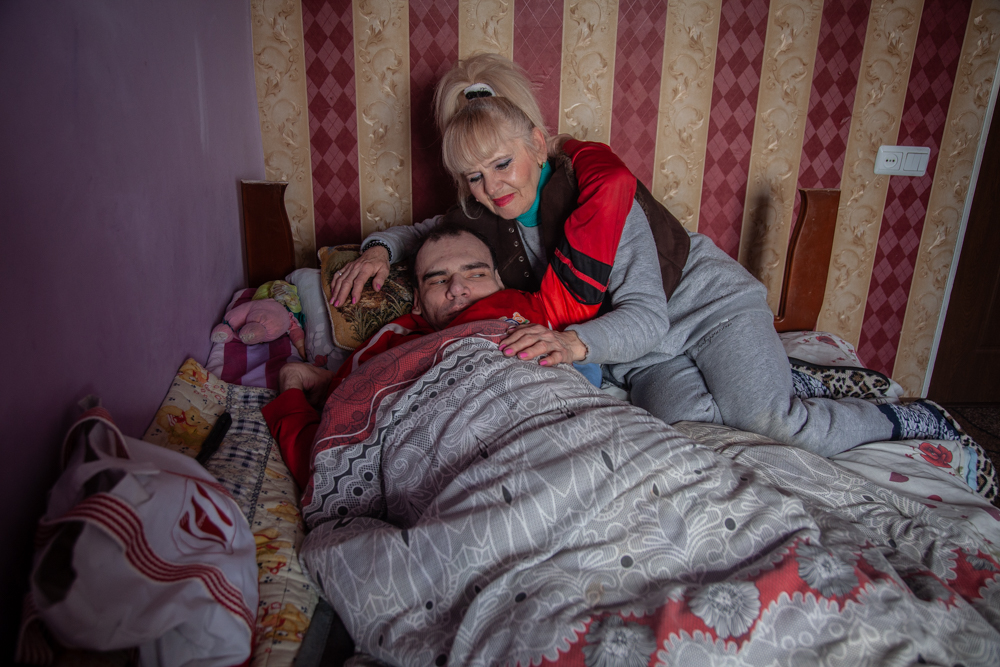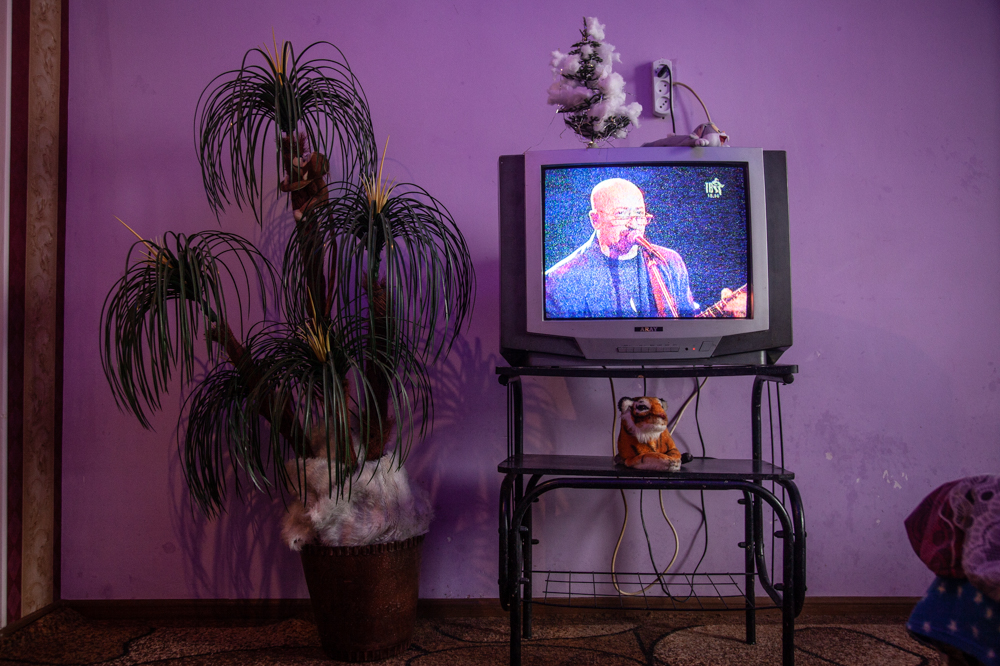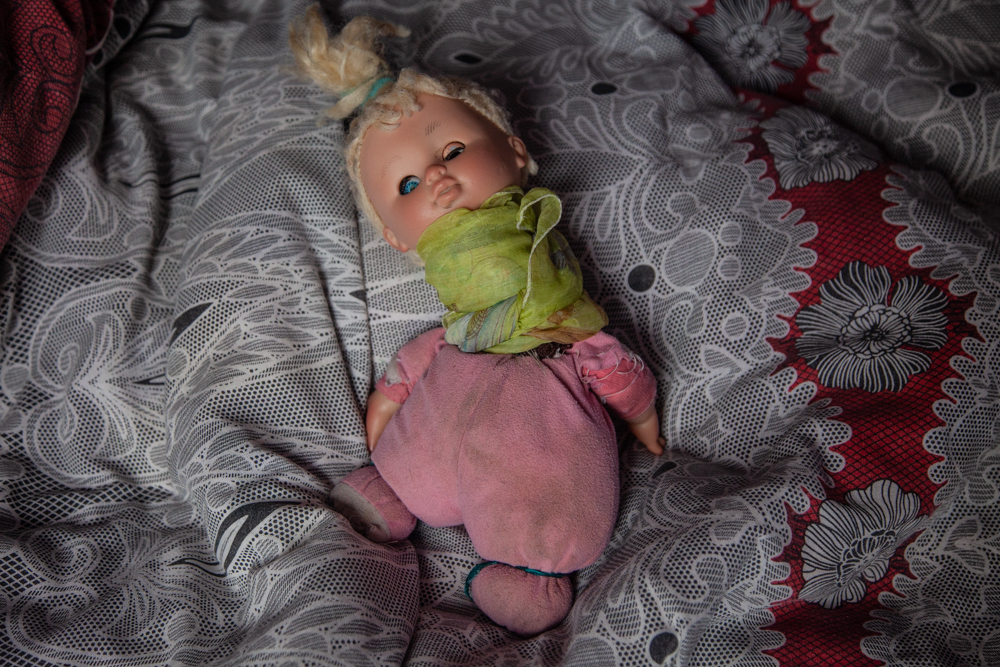 Natalya's husband died when he was just 41, and left his "bride from the north" alone with her three children, in front of sorrow and suffering, in this far and foreign, though favourite country. At the beginning Natalya began working as a tailor for providing the children. Then when she realised that she had missed her parents a lot, she got a job of a stewardess. She liked the new job a lot. And for flying in the air she had to take a caretaker for Karen.
38 years have passed. Karen doesn't walk, and taking care for him has become more difficult. Natalya is 65 now, and for providing for Karen she works as a cleaner in the "Hayordats tun" of the Holy Seat of St. Ejmiatsin. She has to take four transportations to reach to work from the city Abovyan. The same for reaching back home. Instead, Natalya receives free food for her and her son.
If every working person has one day off, Natalya has her Sundays as cleaning days: Karen needs to be bathed, shaved and cleaned. Karen is bedridden and has to surfe among the channels on TV. He likes criminal stories a lot. Natalya dreams that if not for that bad fortune, he would have become a judge. And though Karen can't speak, and only his mother understands him, Natalya is sure that he is very clever. What is the most important he is kind. People become unkind after so much suffering, but not Karen. And not Natalya, because her son loves her endlessly and is thankful for every tiny thing.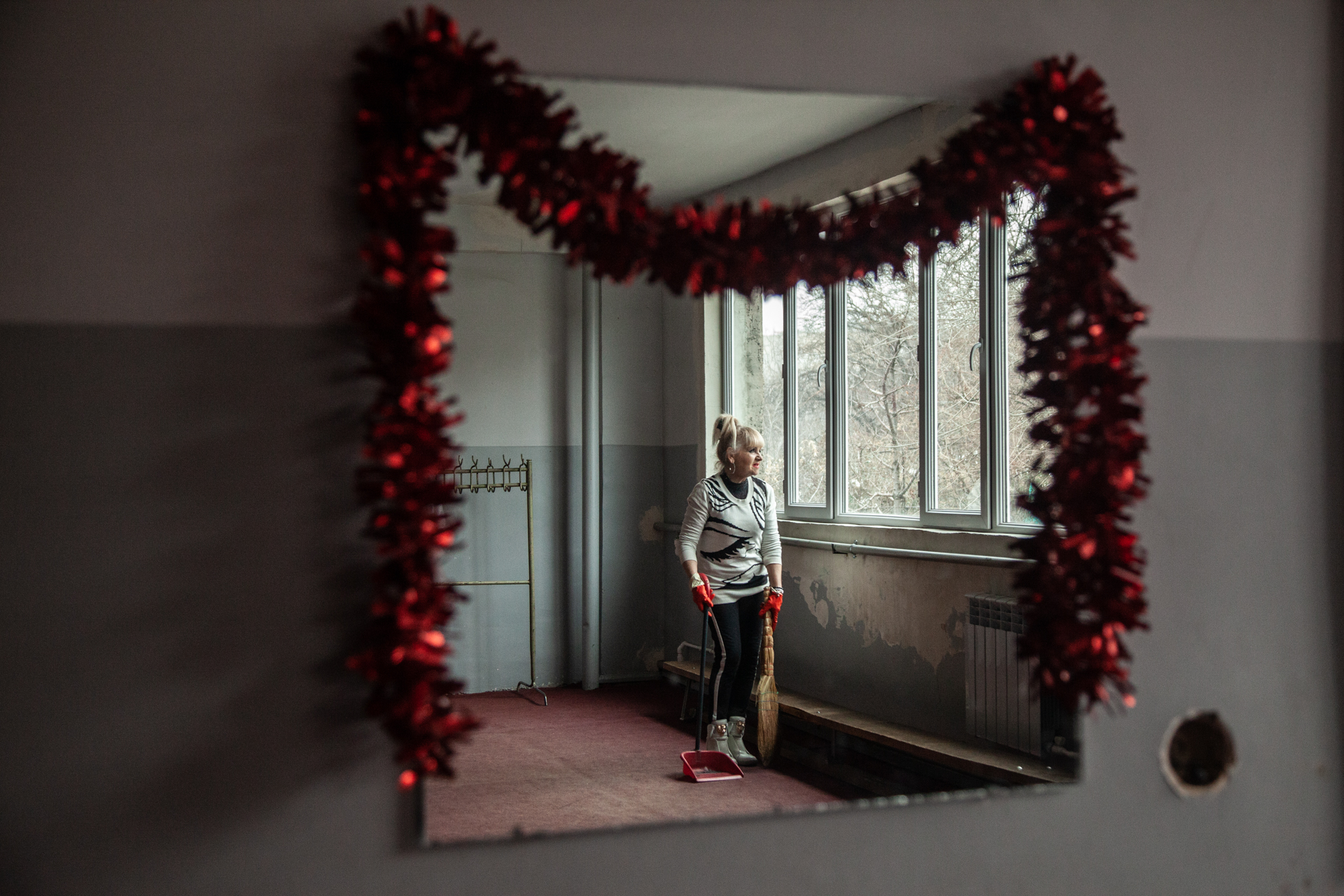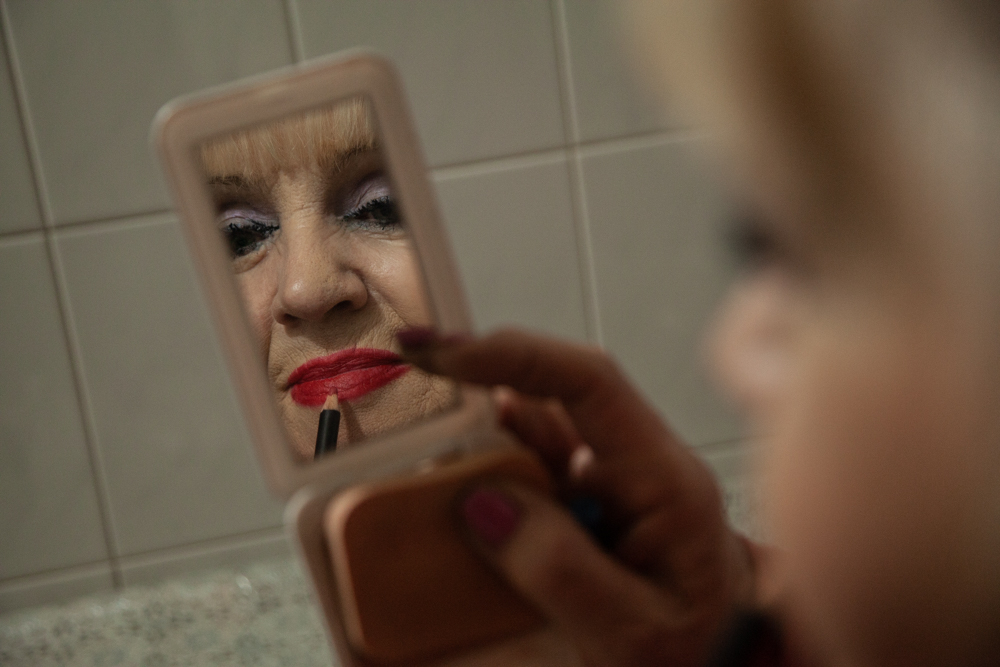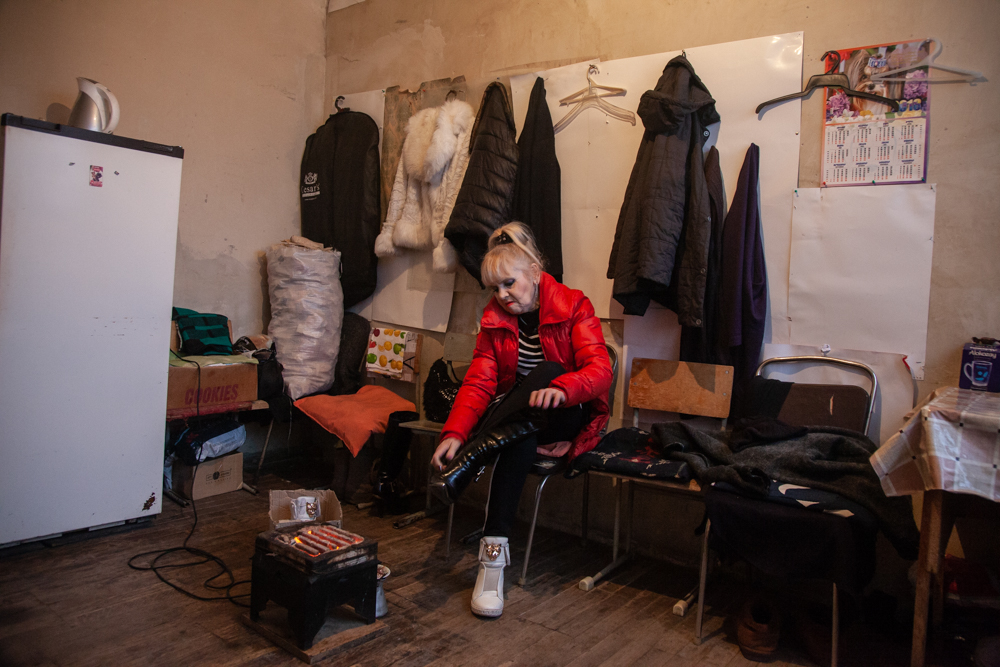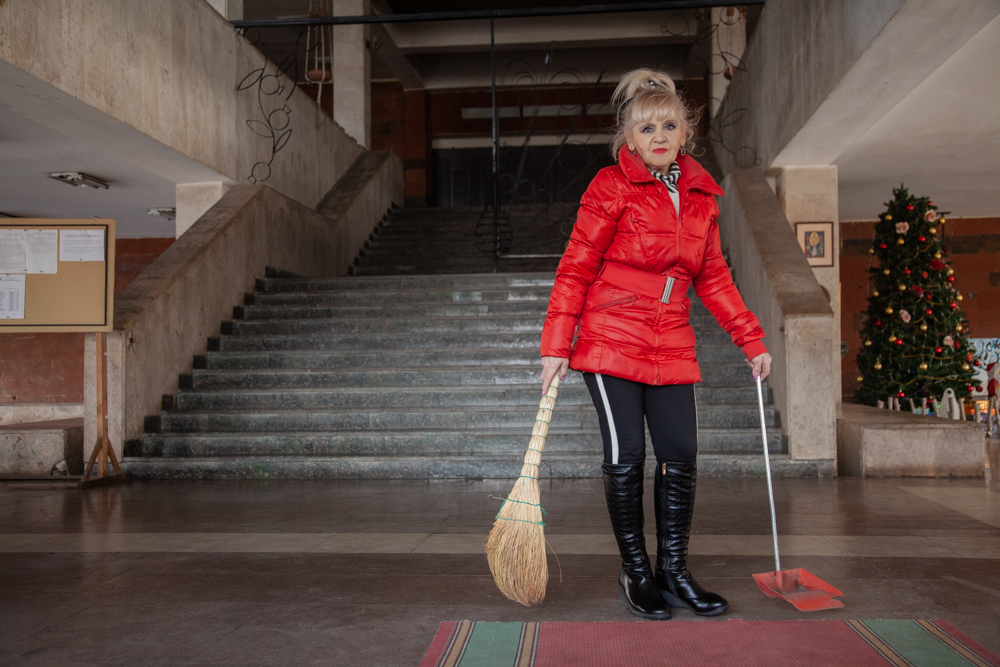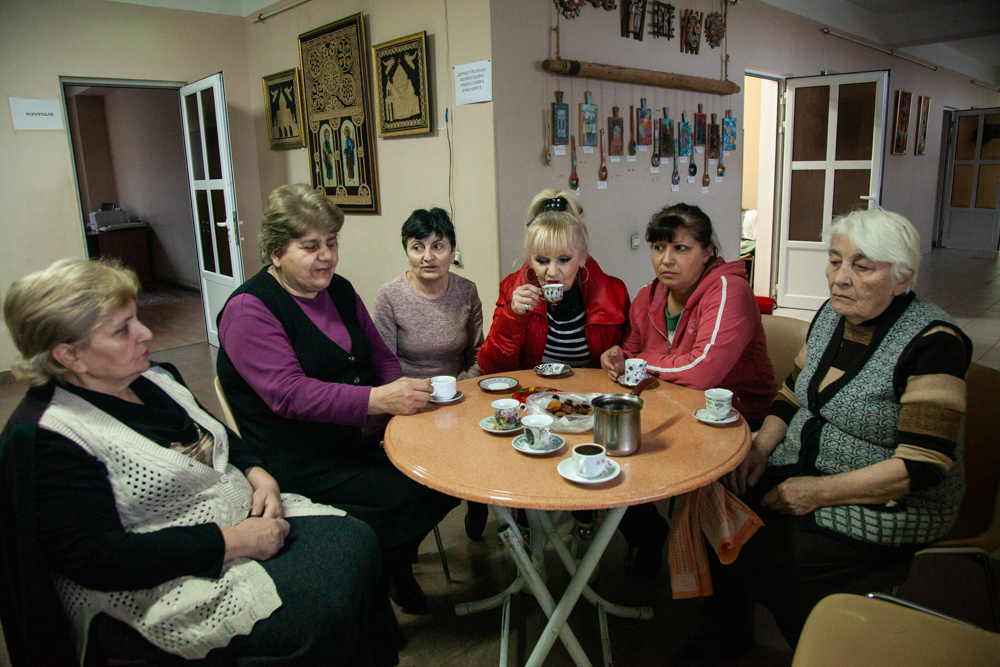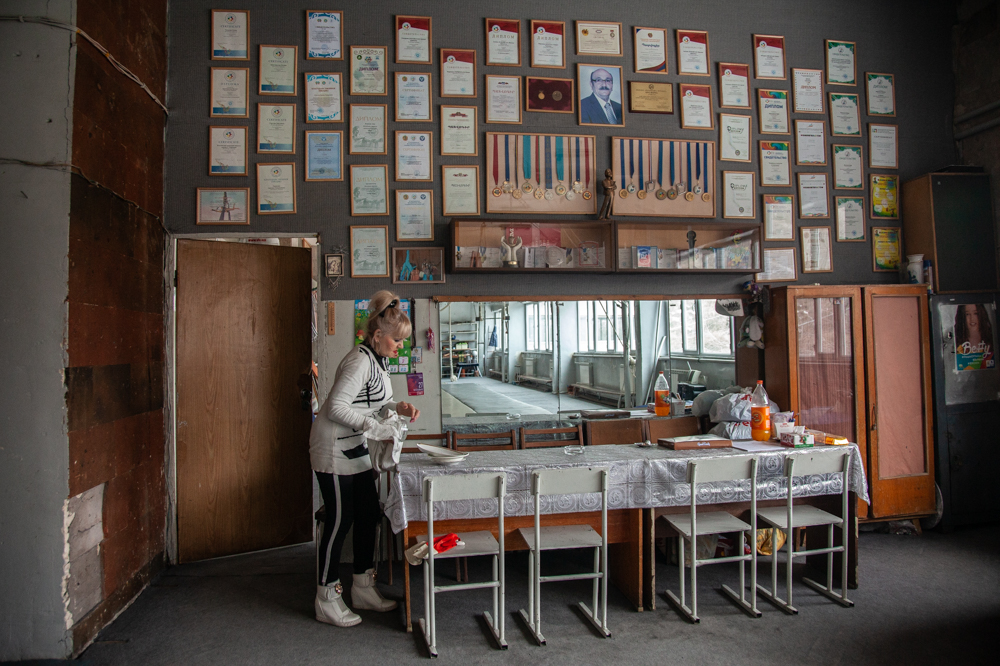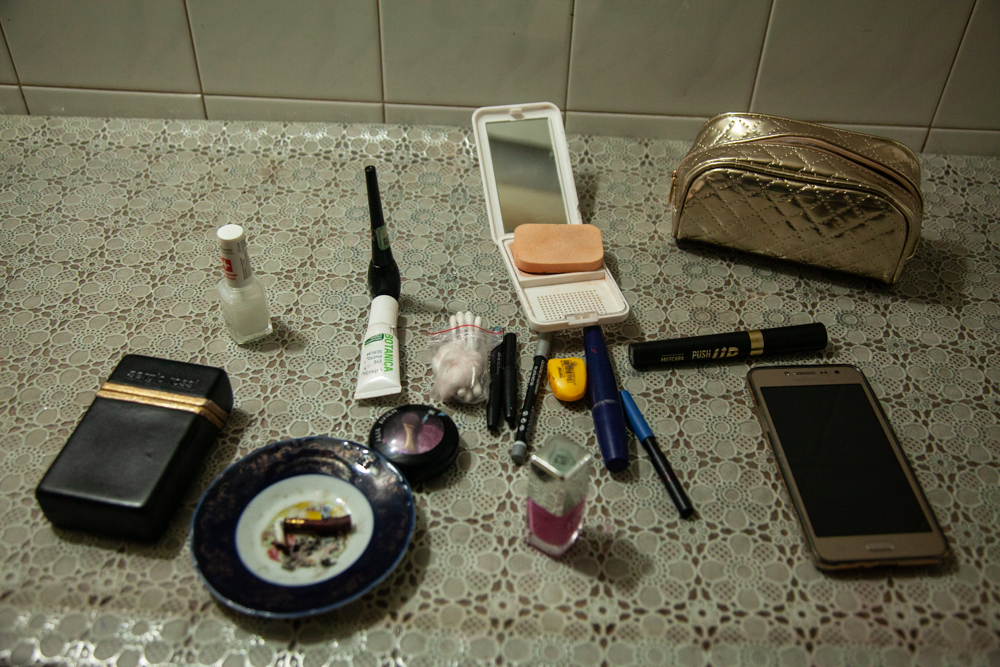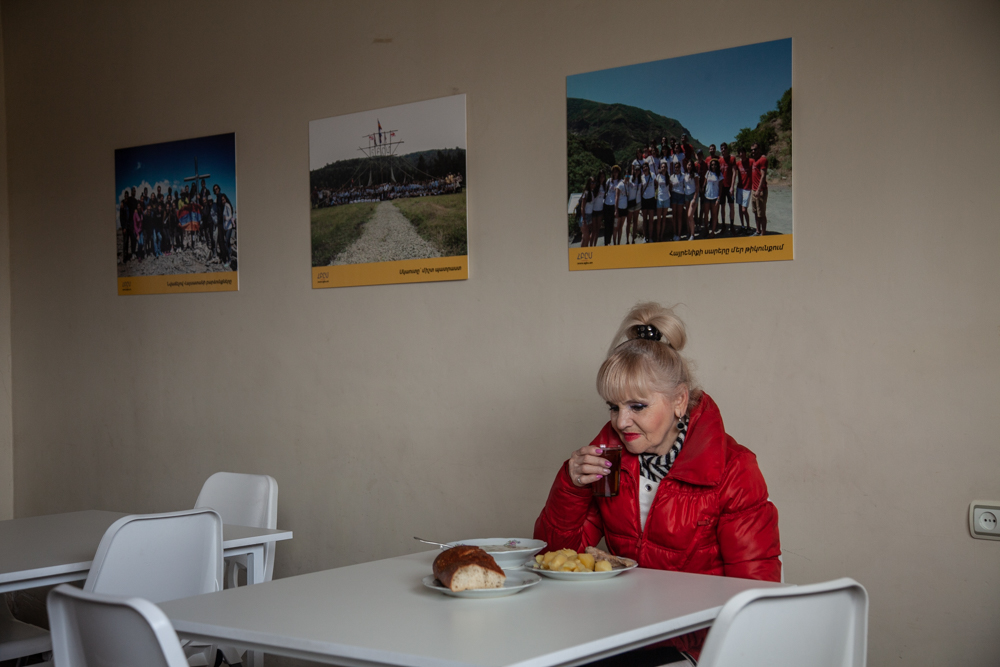 But no matter how strange it sounds, there is another woman in the life of Karen. A doll with his mother's face, whom Karen considers his girlfriend. He kisses the doll every morning, then lets his mother in.
Natalya's work is hard, her life is harder. But Natalya does everything with love. And even now she cares for her looks. And thanks to her the other cleaners of the "Hayordats tun" has begun to look after themselves.
No matter what happens, a woman remains a woman,- says Natalya,- if you lose that, you lose everything.
Now when the photo story is ready, I think what made me follow Natalya after all. Maybe now that I know what helps a woman to confront… let's not say difficulty, because this is not an ordinary difficulty. The answer is clear – love. This sounds old and tattered, but it is nothing easy for a person. But the "bride from the north" has it.
---
"This photo story was funded through a Department of State Public Affairs Section grant, and the opinions, findings and conclusions or recommendations expressed herein are those of the Author(s) and do not necessarily reflect those of the Department of State."