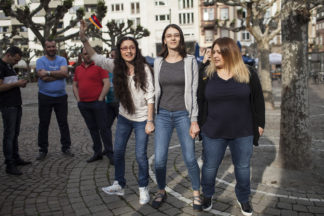 Every year, on April 23, the Armenian community of Frankfurt, the German ambassador, the church representatives, as well as German guests gather at St.Paul's Church during which speeches criticizing the genocide are heard.Before the start of the event dozens of people gathered at the church to celebrate Serzh Sargsyan's resignation.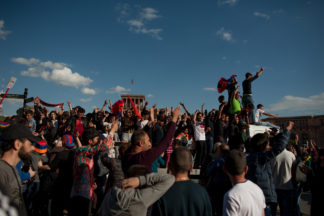 "Make a Step" movement created schedule and toolkit of peaceful disobedience actions. Decentralized struggle, strike, absence from classes and every day a rally in the Republic Square at 7p.m. The members of the rally go home before 10 p.m and the day ends with the scoop actions. People express their complaints by hitting each other the scoops and the saucepans from the windows or the balconies.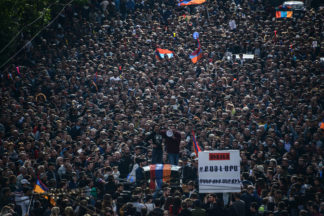 After 40 minutes from the beginning of the march, the police managed to remove the leaders of he movement Nikol Pashinyan, Ararat Mirzoyan, Sasun Mikayelyan to the unknown direction by using violent force and sound grenades. The location of Nikol Pashinyan officially is not confirmed yet.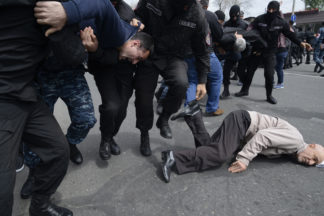 On the evening of April 21 it became known that the Prime Minister of Armenia Serzh Sargsyan is accepting the agenda. Negotiations about transferring the Power with the presence of the journalists took place on April 22, at 10 a.m. in the "Marriott Armenia" Hotel.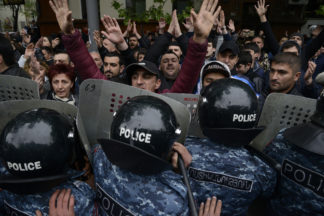 The strong rain which started in the morning of April 21, looked like wiped off the traces of the powerful marches and civil disobedience actions of previous days in the capital and near areas, however, since noon, the disobedience actions continued with a greater power.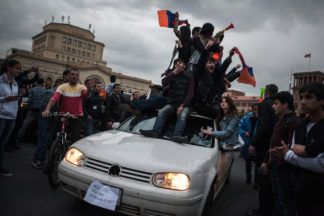 On the twenty of April, thousands of demonstrators broke down the city's tranquility with their cars, marches and peaceful rallies. The rally which took place in the Republic Square was the most crowded one during these days. Demonstrators are getting more and more  with other people joining to the demonstration. The demand is one: Serzh Sargsyan's government should bid farewell.