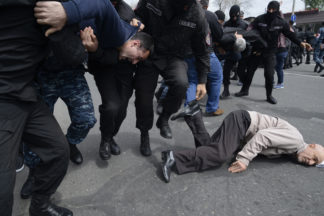 On the evening of April 21 it became known that the Prime Minister of Armenia Serzh Sargsyan is accepting the agenda. Negotiations about transferring the Power with the presence of the journalists took place on April 22, at 10 a.m. in the "Marriott Armenia" Hotel.However, the morning meeting of the Prime Minister and the Opposition Leader lasted only minutes.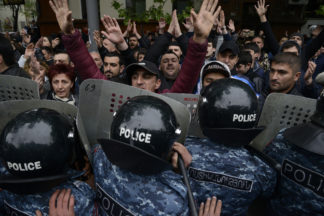 The strong rain which started in the morning of April 21, looked like wiped off the traces of the powerful marches and civil disobedience actions of previous days in the capital and near areas, however, since noon, the disobedience actions continued with a greater power.
Disobedience was followed by closing interstate roads and by civilian marches in Yerevan, Gyumri, Vanadzor, Armavir, Echmiadzin, Ashtarak, Abovyan, Ijevan, Noyemberyan, Ayrum, Berd and different villages.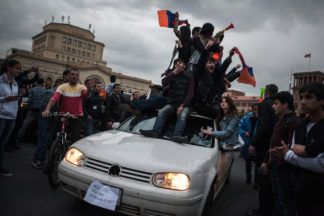 On the twenty of April, thousands of demonstrators broke down the city's tranquility with their cars, marches and peaceful rallies. The rally which took place in the Republic Square was the most crowded one during these days. Demonstrators are getting more and more  with other people joining to the demonstration. The demand is one: Serzh Sargsyan's government should bid farewell.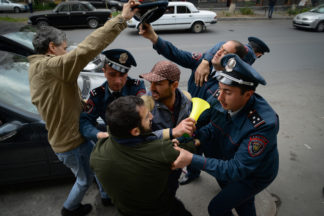 On the morning of April 20, two drivers left their cars on Vagharshyan street in Yerevan, making traffic jam. It seemed that there were no supporters, and the cars passing did not even pay attention to what happened. The police pushed with damaging the cars and with the help of evacuators restored the traffic.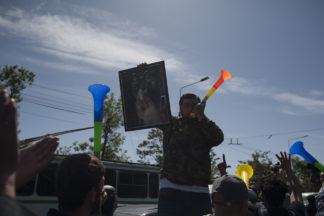 On the morning of April 19th NIkol Pashinyan, demonstrators and students surrounded few buildings of the government. The police detained more than 100 demonstrators. One of the demonstrators lay under the police vehicle not letting in to depart. The march moved from Arshakuniats avenue to Garegin Nzhdeh square.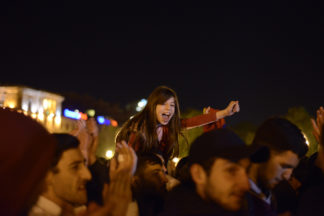 It's been the second day that the National Assembly MP, head of the "My Step" movement Nikol Pashinyan with thousands of his supporters is holding a summarizing rally in the city's main Republic Square. After the rally the 42-year-old leader of the opposition Civil Contract party led the crowd to the prime minister's office.