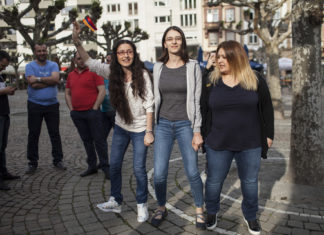 Every year, on April 23, the Armenian community of Frankfurt, the German ambassador, the church representatives, as well as German guests gather at St.Paul's Church during which speeches criticizing the genocide are heard.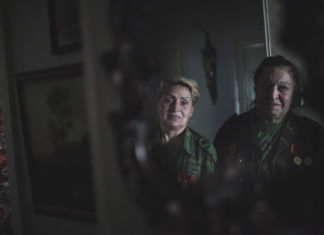 Some of them left their little children, some of them were pregnant, some of them lied to their families and went to war. Qotot, Kara, Hasmik, Jemma, Manush and others fought next to boys for their country.
According to Encyclopedia of "The Karabakh Liberation war: 1988-1994" over 200 women volunteered to participate in the Nagorno Karabakh war.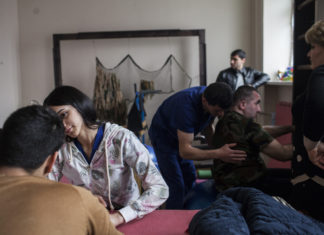 The wounded heroes live in a different reality. A special department at the Mikaelyan Institute of Surgery reflects that reality. The long corridor leads you to the patient and therapy rooms on both sides where the wounded soldiers are still in hospital bed but with their lives being changed every single day due to the consecutive physical and mental treatment - therapies, exercises, massages, and meeting-discussions.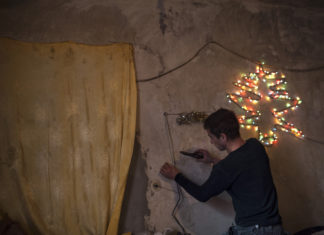 Lyuba (Talita) is one of those women, whom I meet constantly. She works as a cleaner in Abovyan city. One can see her often cleaning our own yard. She is a mother of four. After losing the house of her husband Lyuba has lived in numerous places. The most outstanding of which, where I got acquainted with her and her family, was the "stone house" in an uninhabited field out of Abovyan city.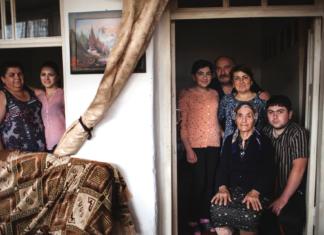 There's a place in the world I dream about every morning, where every evening I regret not being there. There's a place in the world where, as my seven-year-old daughter says, mommy's grandma, who is quite old, lives. In that center of the world, the houses are so old and have suffered so many injuries from the war that they collapse into themselves, hunched, their shoulders touching the ground, and die.